Cell Regen (Facial)
Luxury Organic Anti-Ageing & Cellular Regeneration Facial and Body Treatment
The Luxury Organic Anti-Ageing & Cellular Regeneration Facial and Body Treatment includes 1 hour and 15 minutes of the following treatments:
This treatment is performed with state of the art technology and fabulous certified-organic products. For the duration of the treatment you will be comfortably laid on the MediCrystal mat, enjoying all of its health and cellular benefits.
Relaxing and effective, this facial uses a traditional approach enhanced by a unique, beneficial, and advanced twist. The treatment begins with a refreshing steam and cleanse, followed by a Lyocell & Hyaluronic Acid sheet mask and the application of the Frequency Specific Microcurrent (FSM) Unit. FSM will work to increase collagen, reduce inflammation, and increase cellular turnover, leaving your skin supple and healthy. Enriching serum will be applied throughout the treatment. After the FSM sequence, more organic, enriching serums will be applied, along with the Bio Resonance Mi Health Device, used to enhance the uptake and further improve skin health. Next, The Celluma Red Light Therapy(click link for further information) device will be used, promoting skin rejuvenation and renewal. Finally, the facial will conclude with an application of an organic SPF moisturiser and eye-cream, leaving you with bright and plump skin.
Lay back, relax, and see the results you've been looking for.
Your tr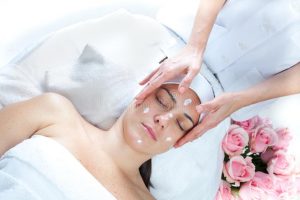 eatment experience includes:
MediCrystal mat: a unique and natural multi-layered cellular rejuvenation system on which you will relax while receiving the treatment.
Cleansing, steaming and multi-serum application, toning, and moisturising of your skin
Mask: A brightening and hydrating collagen mask that contains a medley of powerful natural ingredients to instantly moisturise the skin for a soft, dewy, and radiant complexion.

Niacinamide: Improved uneven skin tone
Sodium hyaluronate: Plumps and hydrates the skin
Green tea: Calms and relaxes the skin
GoTu Kola: Strengthens the skin

Frequency Specific Microcurrent (FSM) targeted treatment for anti-ageing to increase collagen and cellular turnover
FDA-registered Bioresonance
Light therapy (LED): proven to increase circulation, stimulate the body's natural healing processes, trigger collagen production, detoxify, and reduce facial puffiness.
For optimal results a series of six (6) facials is recommended, at the rate of one to two (1-2) treatments per week for a 3-6 week period.
For the subsequent maintenance of the benefits provided by the treatments, one (1) facial per month is advised.
This treatment is available at both the London and Wakefield clinics